On 2nd September 2022, Canada celebrated another milestone in renewing the Royal Canadian Navy's (RCN) fleet with the delivery of the third Arctic and Offshore Patrol Ship (AOPS), Her Majesty's Canadian Ship (HMCS) Max Bernays.
Built by Irving Shipbuilding Inc. of Halifax, Nova Scotia, this is the third of six new AOPS being delivered to the RCN through the National Shipbuilding Strategy (NSS), an initiative that supports Canadian industry and jobs. Designed with a thick and robust hull, the AOPS significantly enhance the Canadian Armed Forces' (CAF) capabilities and presence in the Arctic, better enabling the RCN to assert and uphold Arctic sovereignty. With their considerable space to transport cargo and the capacity to embark a Cyclone helicopter, small vehicles, and deployable boats, the AOPS have the versatility to support a full range of CAF operations at home and contribute to global peace and security in coordination with our allies and partners. 
"Today we celebrate another important milestone for the National Shipbuilding Strategy and the Royal Canadian Navy with the arrival of its third new Arctic and Offshore Patrol Ship, HMCS Max Bernays. I would like to recognize the important work of our shipbuilders and the thousands of Canadians that have contributed their time, expertise, and materials to support the construction of this new ship. Well done to everyone who has helped make this delivery a success."

The Honourable Anita Anand, Minister of National Defence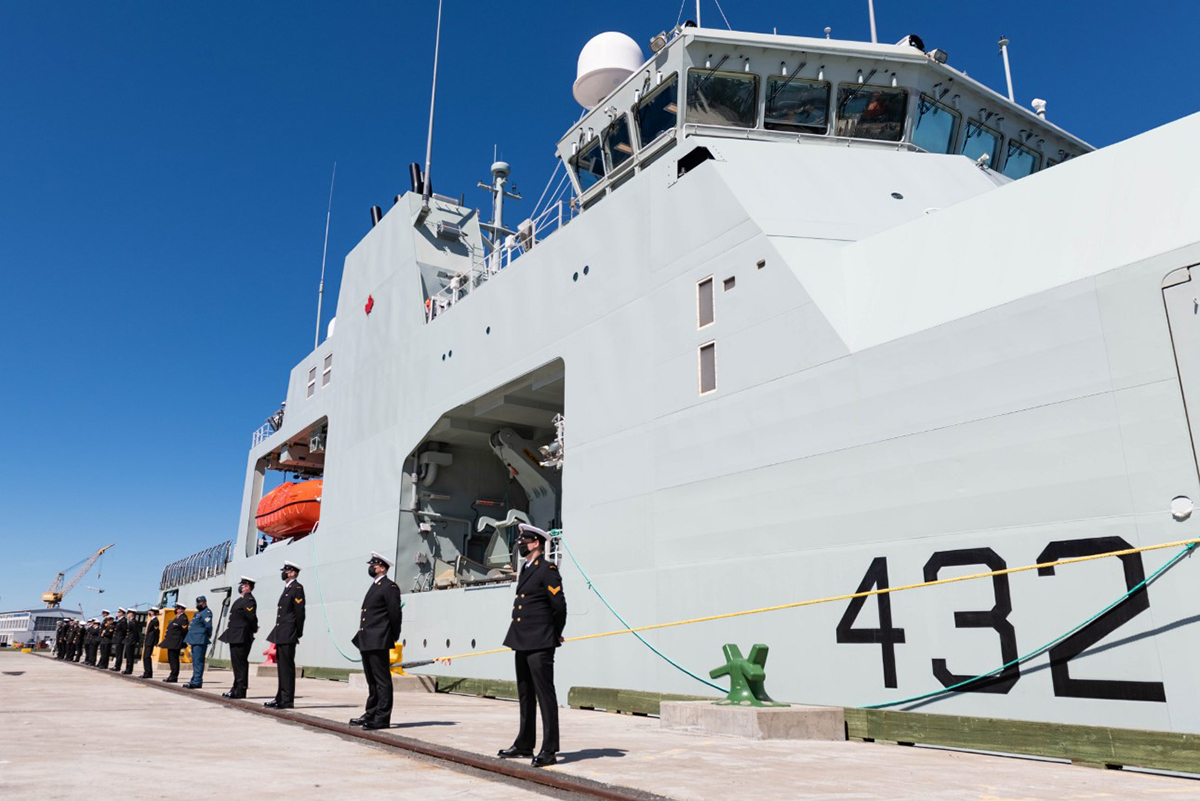 HMCS Max Bernays will remain at the Her Majesty's Canadian Dockyard Halifax while post-acceptance work and final ship preparation work are completed. In 2023, the ship will be transferred to the West Coast, with CFB Esquimalt as its designated homeport. Construction of the sixth AOPS began with steel cutting on August 15, 2022.
"For the third summer in a row, we are celebrating the delivery of an Arctic and Offshore Patrol Ship (AOPS). The HMCS Max Bernays marks an important milestone in the AOPS project as we have reached the halfway point in the delivery of these Royal Canadian Navy vessels. On August 15th, Irving Shipbuilding officially began production of Canada's sixth and final AOPS for the Royal Canadian Navy. Our government recognizes the exemplary work being done under the National Shipbuilding Strategy by Canadian shipyards and the economic benefits it generates in communities and across Canada"


Honourable Helena Jaczek, Minister of Public Services and Procurement Canada said.
In support of Canada's defence policy, Strong, Secure, Engaged, the Government of Canada continues to deliver the modern, functional, and effective ships that the RCN needs to support operations, while also rebuilding Canada's marine industry with the creation of hundreds of new jobs under Canada's NSS.
The AOPS are highly versatile vessels that can be used on a variety of missions at home and abroad, such as coastal surveillance, search and rescue, drug interdiction, support to international partners, humanitarian aid, and disaster relief.